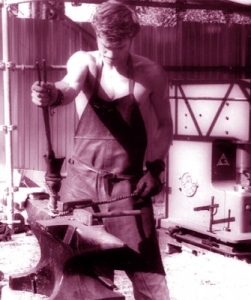 Artist blacksmith Ondřej Podešva
My firm has been spending many years in an artistic manufacturing of metals and presentation oft his art handicraft in public mainly in Prague. We also have great experience with custom manufacturing for firms as well as for private persons. We are able to fabricate give no rour own designs. We also make restorations and repairs.
You can see examples of a variaty of our products in a photogalery. We present this beautiful art handicraft in Christmas and Eastermarkets in Prague, in castels and chateausor on the occasions of differentnational holiday so rof a reenactments of historical events. Forth is purpose we have our own portable forge and a stall undemanding a lot ofspace and technicalconditions (8 m2).
PRESENTATION:
CHRISTMAS AND EASTER MARKETS IN PRAGUE
MUSICAL FESTIVAL THE CZECH CASTELS AND CHATEAUS
MUSICAL FESTIVAL IN BOHNICE IN PRAGUE
REENACTMENT OF A BATTLE BÍLÁ HORA AND ZBIROH
CELEBRATION OF A CZECH NATIONAL HOLIDAY OF ST. WENCESLAV
INTERNATIONAL COMPANY OF BLACKSMITHS IN GOTHA IN GERMANY
INTERNATIONAL EXHIBITIONS OF PRODUCTS IN ROUEN IN FRANCE AND IN WIENA IN AUSTRIA